ANNUAL BANFF COMPETITION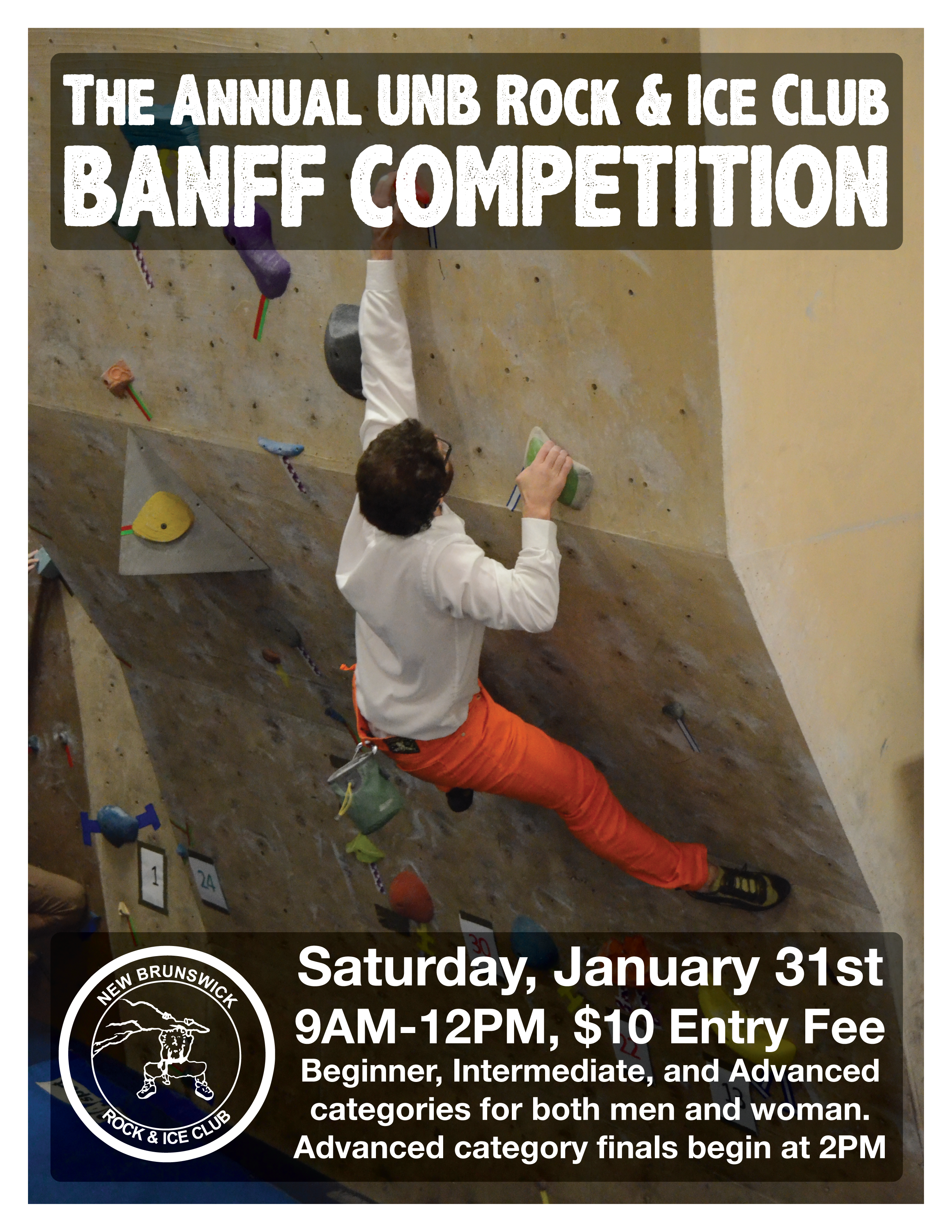 This is our second and final friendly comp of the school year so don't miss out! We are going to be trying something a little different this year by adding FINALS to the advanced category. Be sure to stick around to cheer on your fellow UNB Rock and Ice members. Awards and prizes will be given out following finals.
COST is $10 for all three categories – beginner, intermediate and advanced.
SCRAMBLE/RED-POINT format will begin at 9:00am (Top 6 routes like usual) and end at 12:00pm. Womens advanced finals will begin at 2:00pm with men to follow.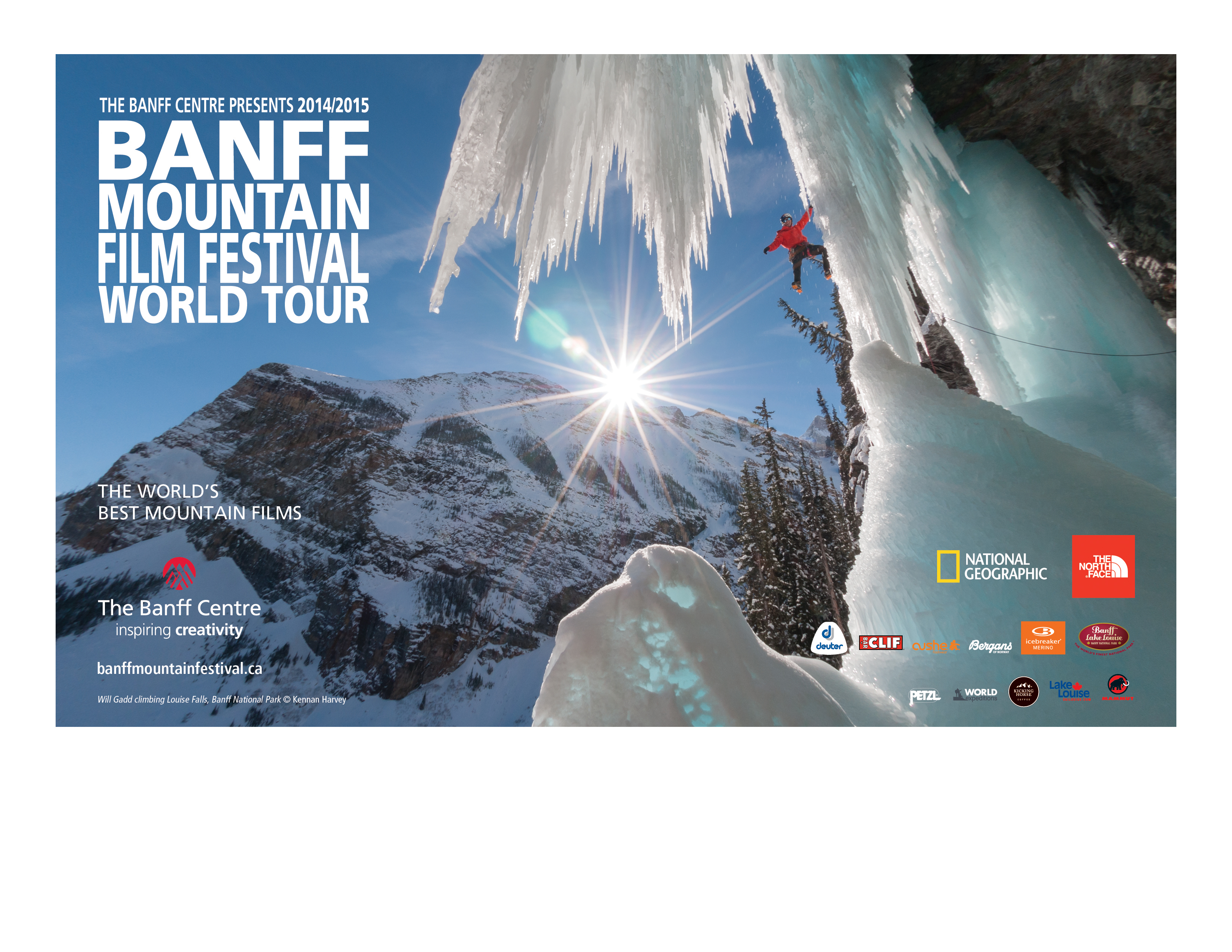 The Banff Mountain Film Festival is just around the corner (January 30th and 31st). We're hosting it at the Fredericton Playhouse again this year after a very successful first run in 2014.
Friday, January 30th highlight films: "Sufferfest 2: Desert Alpine", "Tashi & the Monk", "Into The Empty Quarter (edit)" plus 6 other short films.
Saturday, January 31st highlight films: "And Then We Swam", "Mending The Line (edit)", "Africa Fusion (tour edit)" plus 7 other short films.
Tickets are $15/night and can be purchased online at http://www.theplayhouse.ca/event/the-banff-mountain-film-festival-world-tour/ (online ticket fees extra) or purchased in person at the Playhouse box office downtown (686 Queen Street, Fredericton).
Follow our facebook page for frequent updates.
Reel Rock 9 / Halloween Comp – October 24 & 25

Beginner Rock School! – Sept 27th & 28th
We're Back to Regular Hours!
We're back to running in full force!
Sundays to Fridays 6pm-9
Beginner Hour on Tuesdays 5pm-6
Ladies Hours on Wednesdays 5pm-6
Family Night is Saturdays 5pm-7
Yoga Hour on Mondays 9pm
Club Trip to Dover Island Rescheduled! – Sept 5th & 6th
Since we don't want to compete with The Harvest Jazz and Blues Festival (Sept 9th-14th) we've re-rescheduled the Club Trip to Sept 5th and 6th. You students should be moved in by then, so you have no excuse!
If you were a  2013/14 member, then we'll pay your boat ride to and from the island! Just be sure to bring your membership card!
Our climbing team will also be putting on a BBQ Saturday night on the island as a fundraiser. If interested the cost is $15 and includes both food and drink.
If interested in the trip please send me an email at president@unbrockandice.ca to sign-up. Be sure to include whether or not you wish to partake in the BBQ and if you would prefer a vegetarian option.
Look for our Outdoor Rock School that will (probably) happen Sept 20th-21st! Subject to change, so follow our Facebook Page!
Club Trip to Dover Island – July 5th & 6th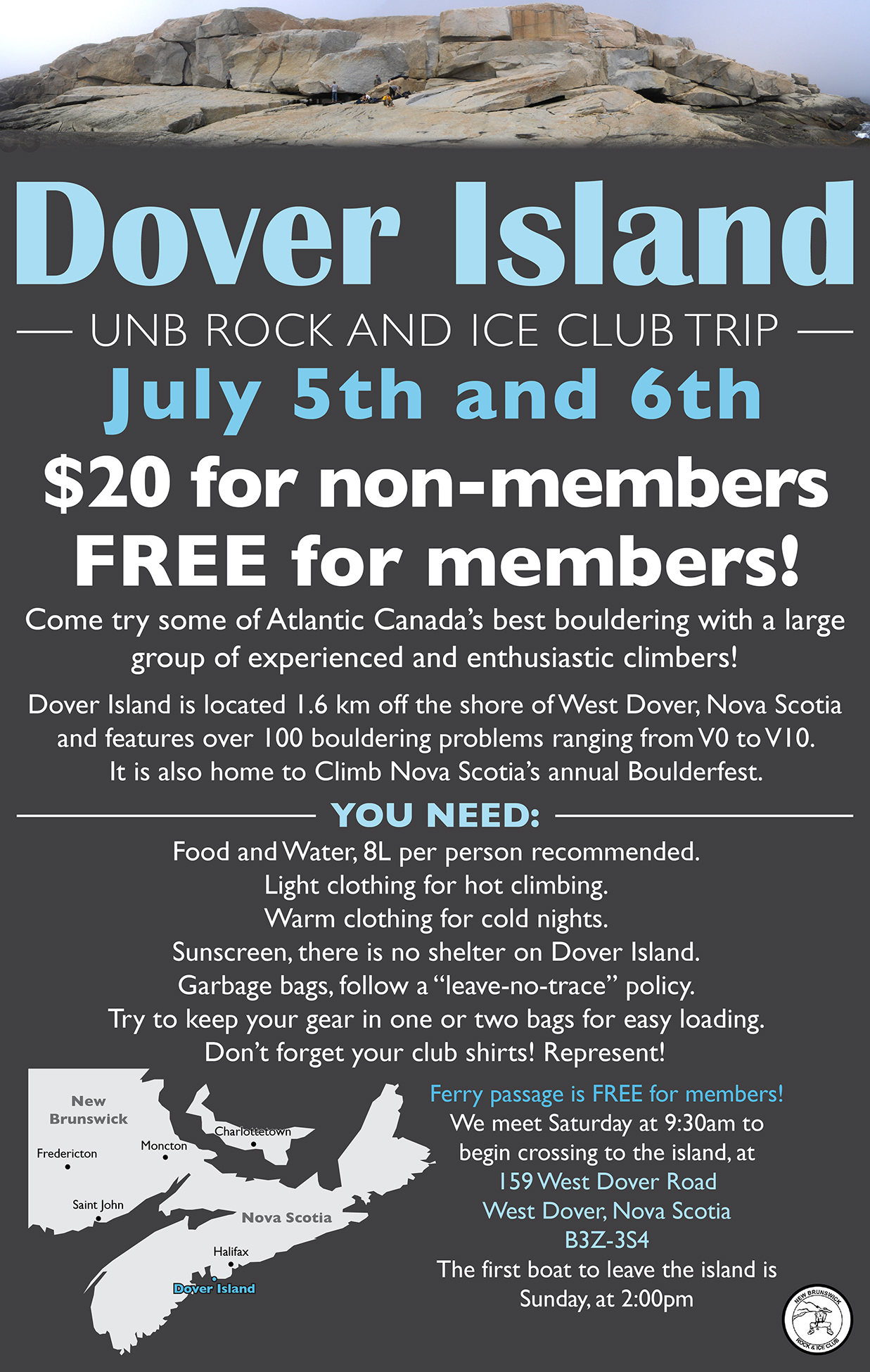 Summer Hours are Here!
Classes are over and exams are done! That means most of the regular monitors chosen to ventured outside to play on real rock instead of the plastic ones at our beloved indoor climbing wall. Fortunately a few brave souls have offered to remain behind to keep the wall open, so be sure to extend an invite to them when you head to Welsford on those sunny weekends!

May 1 – August 31, 2014
Tuesday: 6pm-9
Wednesday: 6pm-9
Thursday: 6pm-9
Friday: 6pm-9
To keep up to date and play the Guess the Gear! every Monday follow UNB Rock and Ice on Facebook!
AGM & Elections – Wed, April 9 @ 7:00 PM
Next Wednesday we will be holding the clubs Annual General Meeting. We will be going over what has happened over the past year and what is in store for the summer. We will also be discussing our summer hours as well as looking for monitors to fill those slots.
This is the perfect time for your voice to be heard. As a member of the exec, we do our best to ensure our members get the best possible experience with the club. This means your feedback is an integral part of what our future holds.
We will also be holding elections for the executive for the upcoming year. All positions are up for grabs, if you think your ideas will help the club progress don't be shy to put your name out there. All voting is anonymous.
The positions are as follows:
President – The face of the club. This person runs any executive meetings and is there to make sure the club stays on track. If there is any slack in the line, he/she is the first person to pick it up.
VP Internal – It is this persons job to organize volunteers throughout the year. Whether it is for nightly monitors or stripping holds it is your role to make sure there are enough people to get the job done. It is also your job to make sure once people have signed up for something they follow through. You will also be managing the key list throughout the year.
VP External – Event organization is the name of the game. Your role is to make sure the club has all sorts of fun activities to do throughout the year. From club movie nights to our biggest fund raiser, the Banff Mountain Film Festival. You will be the clubs liaison between any personnel outside of the club related to these events.
Treasurer – It is your role to keep track of the clubs funds in an organized manor. You will also be drawing up year end reports both for the club and URec.
Secretary – It is your role to make sure everything stays organized. You will be in charge of taking down minutes for the meetings to ensure everyone is aware and reminded of what was said and what they agreed to.
No matter your role with the executive you will be given one vote on issues the club is dealing with so your voice will always be heard. Remember as a member of the executive you represent your members, so if you plan on taking one of these be sure you are willing to commit your time and energy to help next year be even more successful than the last.
If you want more information on any of these roles feel free to speak with the member currently filling that role as they can give you the most incite as to what is expected.
Cheers,
The Exec
Follow our facebook page for frequent updates.